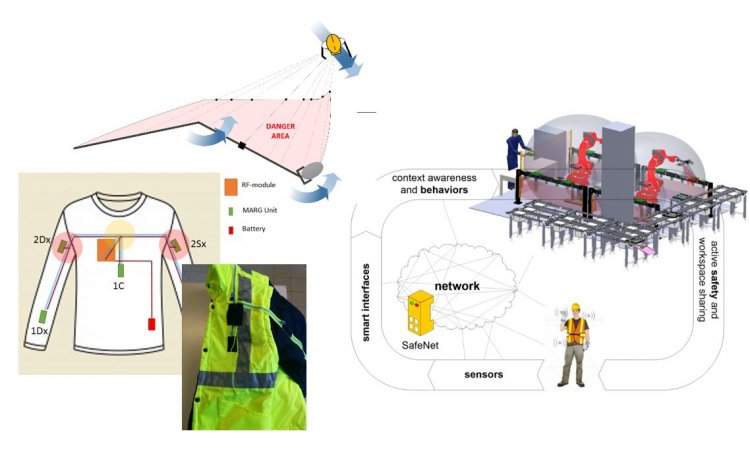 The Project
FACTOTHUMS is a project selected within the MIUR initiative "La Fabbrica del Futuro". The duration of the project lasts two years and it comprises three teams of three CNR institutes: IMM, ITIA and IMAMOTER. Dr. Alessandro Pecora is the principal investigator and the coordinator of the project.
Scientific and Industrial Objectives
The aim of the project is related to the development of new technological solutions for the definition of a safer workplace in scenarios where human-robot interactions are requested. Nowadays, to face the new manufacturing challenges, smart factories must speed up their processes and, at the same time, demonstrate an extremely high degree of flexibility to reduce costs and time. This kind of issues can be solved only by the cooperation between humans and robots in a mixed human-robot working environment. In this complicate scenario of co-shared workplace and continuous human-robot interaction, safe strategies and architectures are a key requirement to avoid possible injuries to humans or fatal accidents.
Ideas and Solutions
Workspace and task sharing in human-robot collaborative applications both require safety. An operator is set free to move and interact with robots, while is being tracked by sensors. Danger areas, where hazardous collisions could happen, are dynamically computed at runtime in the direction of motion. Robots will react by stooping in time before any possible contact.
Computing safety areas in real time enables an optimal use of the shop-floor space.
By merging three concepts:
New wearable sensors
Innovative wireless communication protocol
Safe standard implementation
we realized the technologies underlying a safe fenceless scenario in which humans and robots can cooperate and work exploiting their peculiarity of flexibility and decision making for one side to precision and velocity from the other side.
Follow Up
FACTOTHUMS project has been selected to participate in a Canada-Italy Concurrent Call on Automotive Manufacturing R&D. The project was approved for funding and will last five years.
The aim of the project is to join the expertise of the Canadian teams with that acquired in the FACTOTHUMS's activities, to create new concepts and safe interactions between humans and industrial robots in automotive factories.
In the consortium two Canadian industrial partner are involved: Fiat Chrysler Automobiles and Williams and White Group.